Veggie Medley Gluten Free Homemade Dog Treats
                                                   by Sara Abraham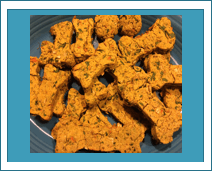 Bake: 350 °F   
Ingredients:
1 egg
½ cup pure pumpkin puree                                
1/8 cup peanut butter
1 cup gluten free rice flour
½ cup coconut flour
1 TBS flaxseed
1 carrot (4-5 baby carrots) finely chopped
1 cup spinach finely chopped
1 cup frozen broccoli florets finely chopped
¼ cup gluten free oats
Preheat oven to 350 degrees F.  Mix together egg, pumpkin puree, and peanut butter using an electric mixer on low until well blended.  Add rice flour, coconut flour, and flaxseed and mix for about  30 seconds. Finely chop spinach, carrot, and broccoli florets in a blender. Add to dough along with oats and mix by hand until all ingredients are incorporated. Knead dough for 1 minute and form a ball. Roll dough out on a lightly floured smooth surface to about ½ inch thickness. Using cookie cutters of choice cut out treats and gently place on a parchment paper lined baking sheet. Bake for 30 minutes, until treats feel mostly dry, and are slightly golden on the bottom. Allow treats to cool. Store in airtight container, in refrigerator, for freshness.