Top 6 in Pet Insurance
With Healthy Paws Pet Insurance & Foundation, you can give your pet the best medical care possible. Our top-rated pet insurance plan covers everything that matters including accidents, illnesses, cancer, emergency care, genetic conditions, and alternative care.
Consistently #1 in customer satisfaction

Chosen by almost 90% of Consumers Advocate visitors

Most comprehensive illness and accident coverage

Unlimited lifetime benefits + no claim caps!

Annual deductible (recommended)

Free mobile app & no claims forms
If your vet recommends it, Petplan covers it. We pay claims every day for exam fees, diagnostic treatments, surgery and every form of cancer — as well as prescription medications, rehabilitation, alternative and behavioral therapies and more!
In business globally since 1976

Fewest restrictions on coverage including hip dysplasia 

Benefits limited to $22k/yr

Per-condition, per year deductible
With no payout limits and 90% coverage, the Trupanion policy allows you to focus your love and attention on your pet and giving them the care they deserve. It can be hard to have to make a decision for your furry friend simply because of finances, but with the help of Trupanion, you can avoid having to weigh your options.
No limitations on illness and accident coverage

Great customer service

Unlimited benefits

Per-condition deductible (good for chronic conditions) 
Since 2006 we've been innovating the pet insurance industry and establishing ourselves as pet experts. See what makes us tick.
Illness and accident coverage

Optional wellness plan covers spay/neuter surgery

Benefits limited to $15k/yr

Annual deductible
No medical records or veterinary visits are required to enroll or renew your coverage.
Annual benefits limited to $20k/yr

Reasonably good coverage

No hereditary or congenital condition limitations
Get money back for your veterinary expenses with a pet health insurance plan from PetFirst. See how affordable PetFirst makes providing your pet with great veterinary care.
Two plans: Standard & Lifetime

Standard plan limits payout per-incident and has many exclusions

More expensive Lifetime plan has better coverage with benefits limited to $20k/yr
Pet Insurance explained - video
Determining the Best Pet Insurance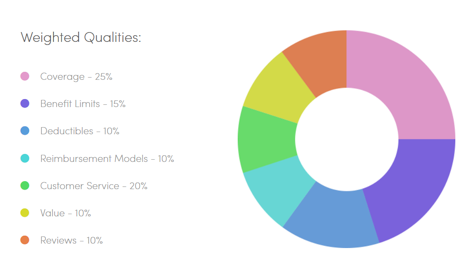 Breaking it down 
Coverage (25%) 




The first thing we look for in a pet insurance policy is extensive coverage with few restrictions. More isn't always better, so we look for comprehensive coverage that will protect your pet for the unexpected, instead of the routine expenses you can plan for. We also believe that it's important for you to get the coverage that is advertised so we look at the policies carefully to make sure there are few restrictions on the protection the company will provide.

Benefit Limits (15%)




Whether or not there are maximum payout caps on a Lifetime, Annual or Per-Condition (or Per-Incident) basis is the second thing we look at. The best companies provide few restrictions on the amount they will reimburse for. While companies that offer unlimited lifetime benefits are preferred, we also ranked companies with generous maximum payout caps higher than those that have overall limitations that could render your policy useless over the course of your pet's lifetime.

Deductible Type (10%)




Companies offer one of three deductible types: Annual, Per-Condition (Lifetime), or Per-Condition (Annually). We prefer the annual deductible, which allows the policyholder to pay one deductible for the entire year, no matter what condition is being treated. Our least favorite is the Per-Condition (Annually), which requires a deductible for each condition and resets each policy year. We also like companies who give customers the option to select their deductible amount, which allows them to create a policy that fits their budget.

Reimbursement Models (10%)




Pet insurance companies use one of three reimbursement models: Actual cost, Benefit Schedules and Usual & Customary. The best pet insurance companies reimburse on the Actual cost of the veterinarian bill. We feel that Benefit Schedules and Usual & Customary models make it hard for policyholders to calculate the cost of care for their pet and plan for the unexpected.

Claims & Services (20%)




In this category we look at:

 - Claim Submission:

Do companies make the claims process easy and do they reimburse for what they say they will?

- Policies:

 Are the company policies transparent and easy for consumers to find? Does the company say one thing but have lots of limitations hidden in their policy?

- Customer Service:

Does the company make it easy to contact them, make updates to accounts, and respond to concerns quickly and thoroughly?

- Financial Stability:

Are companies financially stable and have strong underwriters? We consider the company's AM Best rating and available surplus for paying claims to assess a company's long-term financial stability.

Cost (10%)




The monthly premium for pet insurance varies depending on the plan and pet being covered, and average between $1-2 a day. However, this does not mean all coverage is equal, so we take a look at the value of the policy (or what you get for what you pay).

Reviews (10%)




The last thing we look at is the reviews of the companies from consumers like you. This score is based on ratings from the Better Business Bureau (BBB), pet insurance review sites, editorial articles from reputable news publications (for example, this

LA Times article

, or this 

Seattle Times article

) & reviews submitted to ConsumersAdvocate.org to provide the most inclusive and accurate ratings available. 
Full Pet Insurance Rankings
The first 6 are in our review above